Nissan Service Mechanic Milton Ontario
MILTON NISSAN SERVICE CENTRE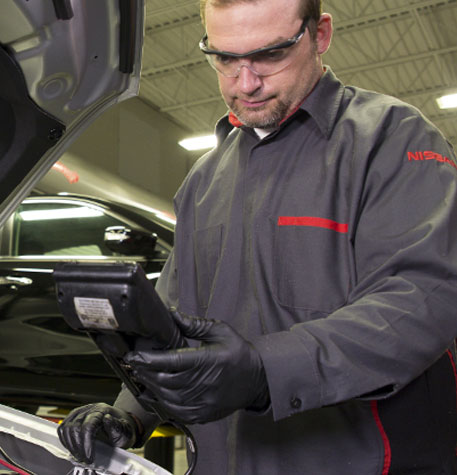 Whether you want to accessorize your Nissan, purchase genuine Nissan parts or schedule a tune up, our Service & Parts Professionals are ready to help you meet your vehicle's needs. We are committed to ensuring your Nissan performs at its optimum capacity.
Be sure to enjoy our complimentary coffee, wireless internet or television if you are visiting our waiting area during a service appointment.
Don't forget to visit our Service Promotions page for our monthly specials!
SERVICE PROMOTIONS AND SPECIALS
NISSAN DEALERS OFFER THESE ADVANTAGES:
Factory Trained Technicians
Access to Warranty service history and factory technical information
Nissan Specific Tools required for your Nissan vehicle
Genuine Parts that meet Nissans high quality standards
12 month / 20,000km parts & labour Limited Warranty when Genuine Parts are installed at your Nissan Dealer
Lifetime Limited Warranty on select Replacement Parts
Estimates available upon request
And more - Contact us today for further details
ASK ABOUT MOBIL 1 SYNTHETIC OIL CHANGES:
Protects against harmful deposit and sludge build up compromising lubrication
Helps keep engines clean and promotes longer engine life
Resists oil oxidation and thickening and prevents premature wear of all engine components
Helps reduce oil consumption during high-speed operation
Technology is proven
QUESTIONS? ASK ONE OF OUR TECHNICIANS
WE CAN PROVIDE YOU WITH ALL YOUR NISSAN PARTS NEEDS.
We have:
Collision Parts
Nismo Performance Parts
Accessories
Mechanical Parts
Tires
Alignments
Nissan Lubricants & Chemicals
Are you looking for parts for your Datsun? - Our Parts Manager Dan Dales has been with Nissan 30 years, give him a call today!
An Easier Way to Book Your Next Service Appointment: Booking your next Service Appointment is only a click away! Save time by clicking the button below to schedule your Nissan in for its next maintenance visit. Fill out the required fields, describe your vehicle's needs, hit send and a Milton Nissan Service Associate will take care of the rest!
REGULAR AUTO MAINTENANCE
Systems and components that should be regularly maintained on your vehicle:
Oil and Oil Filters
Air Filters
Brakes
Charging/Battery
Belts
Cooling
Wipers
Ignition
Shocks/Struts
Milton Nissan is located in Milton, Ontario and also serves Oakville, Mississauga, Georgetown, Guelph, Hamilton, Burlington, Brampton, Acton and the GTA.