Brakes Replacement Milton Nissan Milton Ontario
BRAKE REPLACEMENT
When your brakes wear out, they need to be replaced. When caught early enough, the standard repair is to replace the brake pads and resurface the brake rotors. Resurfacing the rotors is important, as it makes the rotors 'true' to prevent any pulsations, and it also removes any glazing that has occurred on the metal which would cause a brake squeal.
SOMETIMES BRAKE ROTORS NEED TO BE REPLACED.
THERE ARE SEVERAL FACTORS THAT CONTRIBUTE TO THIS.
Damage

 - the brake pads were allowed to wear down to nothing, and the steel backing from the pads has ground into the metal of the rotor. This is not repairable, and must be replaced.

Run out

 - Run out is the side-to-side movement of the rotor as it is turning. If the run out is too excessive, then machining is not possible, as it would remove too much metal and render the rotor unusable

Thickness

 - There is a minimum allowable thickness for each rotor. Should the rotor be measured, and found to be too thin, then it must be replaced

Rust

 - Sometimes, rotors are just too rusty to do anything with, and must be replaced.
WORN OUT BRAKE COMPONENTS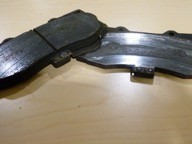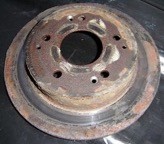 FULLY SERVICED BRAKES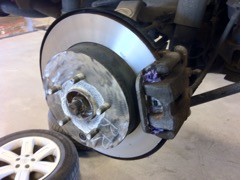 NEW BRAKE PADS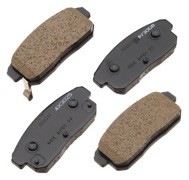 Following the Nissan maintenance schedule is critical to ensure you keep your vehicle in tip-top condition, to protect your investment and the resale value.